Welcome
Welcome to the Eromanga-Sensei Wiki!
This wiki is dedicated to everything related to the Eromanga-Sensei series written by Fushimi Tsukasa. This includes the light novel, manga series, and anime adaption. If you choose to upload photos, remember to put them under the "fair use clause".
Spoiler warning!
This Wiki will have Spoilers. Read at your own risk.
Information from the novels take precedence over other media.
Synopsis
One year ago, Sagiri Izumi became step-siblings with Masamune Izumi. But the sudden death of their parents tears their new family apart, resulting in Sagiri becoming a shut-in which cut her off from her brother and society.
While caring for what's left of his family, Masamune earns a living as a published light novel author with one small problem: he's never actually met his acclaimed illustrator, Eromanga-sensei, infamous for drawing the most lewd erotica. Through an embarrassing chain of events, he learns that his very own little sister was his partner the whole time!
As new characters and challenges appear, Masamune and Sagiri must now face the light novel industry together. Eromanga-Sensei follows the development of their relationship and their struggle to become successful; and as Sagiri slowly grows out of her shell, just how long will she be able to hide her true persona from the rest of the world?
The Heroine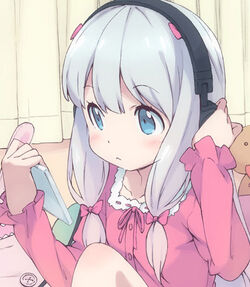 Izumi Sagiri is the shut-in younger step-sister to the protagonist Izumi Masamune and also the famous illustrator Eromanga-Sensei, who is well known for her erotic drawings, though few know her true identity. While she seems innocent, she is surprisingly perverted.
Read more about the her here.
In the News
Just a reminder. This is a Japanese title with Japanese characters. That being said, the names of the characters should be in the correct order for Japan, which is family name first then given name. In other words, it's Izumi Sagiri, not Sagiri Izumi. Do not rename pages simply to change the order of the names. Adding a redirect is acceptable. Renaming the main page is not. Doing so in the future will be considered vandalism.
No, you are not seeing things. I just added a page for Volume 11. I really wish someone would license this in English.
I'd like to thank everyone for all of their contributions to the wiki. You are what drives the wiki and makes it live. Please keep contributing. While I haven't been contributing very much, I do keep an eye on things, so if there's something you want or need (other than being made an Admin) feel free to ask.
After numerous complaints about it being dead, the Discord server has been put out of it's misery. Since there is no longer a Discord server associated with the Wiki, I have reenabled the Chat feature.
Due to the continuing edit war over the date format on the main page, I have protected the page. That means I have removed the ability for most users to edit it. Sorry.
I have seen a bit of an edit war happening on the main page over the date format. For the record, the difference between "9" and "09" is a date is trivial. The fact that is keeps getting changed back on forth on a fairly regular basis is a bit annoying. Please stop.
I'm concluding the poll and making a couple of changes to the wiki. The first change is that article comments have been switched on. This has the additional change of Talk pages being turned off. The second change is that the chat feature has been disabled. We have a Discord server. That's why the chat feature is no longer required.
On an unrelated note, I am going to require that changes to existing information MUST have a reference. While I won't consider it vandalism, if you make an unreferenced change, it will be rolled back or undone as needed. If it needs to be discussed, use the article comments. That's what they are there for. Let me repeat this policy. NO UNREFERENCED CHANGES TO EXISTING ARTICLES.
In response to an anonymous visitor, I have added the ability to add French voice actors and actresses to the character infobox. If you know the name of any of the voice actors or actresses, please add them. References are greatly appreciated. Also, if you are editing articles using a guest account, I encourage you to create a FANDOM account and officially joining the Wiki.
Blu-Ray and DVD availability:
Aniplex (Japan) has Eromanga-sensei available on Blu-Ray and DVD. Each disk covers two episodes of the anime. Unfortunately, I do not know if these disks are subtitled or not. The information on the disks can be found here. The first two disks are available now. The remaining disks will be released on August 23, September 27, October 25, and November 22.